Nick O'Hare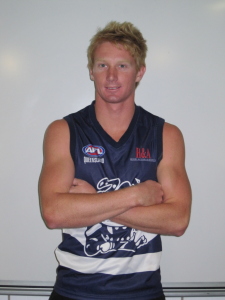 Racked up 13 games in debut season 2010 and followed up with a quiet 2011 with one game in the ones. Handy Ranga type from Geelong West/St Peters where he played 40 games and won a couple of junior B&Fs. Quiet off field while he pursues a career in Law, and same on field.
Was used off the bench through the midfield and  up forward. Set a game alight at his previous club when he kicked out from FB, ran on to receive the conveyance, took 6 bounces and kicked a goal. Stats for the game: 2 kicks, 1 goal.  But his best is yet to come, we hope.
A serious ironman, Nick headed north in search of warmer waters and Pamela what'sername from his favourite TV show Baywatch. Settling in for a second year and apparently ran in the first 10 in the Cooly Gold and/or the Ironman Championships, which is pretty good for a bloke petrified of sharks.

Found the warm water at Northcliffe but Pam not yet on the radar unless you class whales as legitimate targets.  Not to be trusted around kitchen appliances or animals.
Number: 30
Born: 1988
Weight: 84
Height: 183
Senior games played prior to this season: 14
# of career games:
Years Played.2010 - 11
Position.utility
Sponsor: